An Interview with Ms Lily Cheung
Lily and the School
Can you briefly tell us something about you?
Can you please tell us something about you and the School?
I have fond memories of my days in St. Paul's Convent School. I liked to join many clubs and societies and took pride in committing myself to serving the school and school-mates. It is in this spirit that I became an active contributor in the 160th Anniversary Organizing Committee and participated in the Fund-raising team and the Grand Dinner Team, as a designer and liaison for funds and gifts.
What the School meant to you?
To me, the School is always a beloved place where I grew up, where I have made life-long friends, where the Sisters and Teachers taught us to become fine ladies, to always feel pretty and confident. The School is a place where I learnt to be charitable to fellow human beings. Most importantly, it is a place where I learnt about God, became a Catholic and tries to put love in action.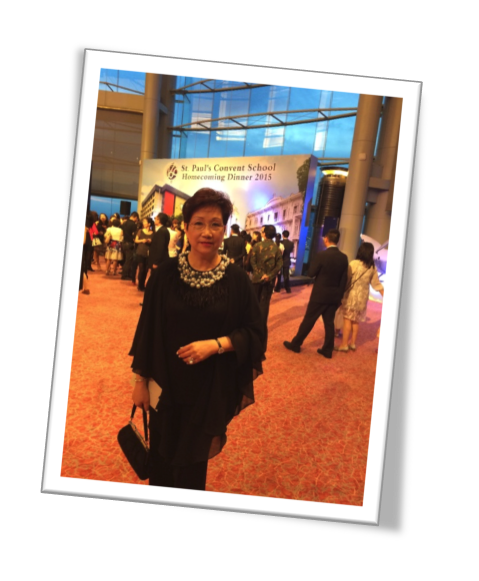 The 160 Celebration
We are grateful you are one of our sponsors to one of the souvenirs of the 160th Celebration of the School, namely the tote bag and the T-shirts. Can you share with us about?
I was delighted to be able to contribute to the 160th Celebration as the designer of T-shirts and several styles of bags to commemorate the anniversary.
The T-shirts were available in the school's traditional colours of red, blue and grey, with sizes to suit ladies, gents and kids. They carried our signature tartan trimmings, tailor-made buttons bearing the school name and what was more, they came with an embroidered logo of our characteristic black and white shoes. Thanks to the support of everyone, over 1000 pieces have been sold. Personally, I liked the red coloured one best. Red, being a warm and positive colour, signifies my passion to my alma mater.
For the bags I have designed different sets of bags with our characteristic Paulinian touches to suit your tastes and meet your needs. What is more, these bags with the school's signature features would act as linkages for Paulinians across the generations.
Anything special regarding the souvenir items?
The T-shirts and bags bring with them auspicious meanings and blessings of '豐衣足食'and '代代平安'. The shoulder bags and tote bags came in sets of 3s signify '三代同堂'. I was overwhelmed by the encouraging response as over 3000 sets have been sold.
I would like to take this opportunity to thank Angeline Yiu and his father, the renowned Professor Jao Tsung I, GBS, JP, who have sponsored door gifts of the tartan shopping bags and key holders. The key holder with the crystal 'SPCS' charms carries the wishes of Professor Jao that every Paulinian would shine and twinkle '發光發亮' like a star.
Gratitude also goes to our Alumnus cum School Manager, Miss Gigi Mak who entrusted me with designing souvenirs she donated, namely the black and white shoes key chains as door gifts and SPCS handbags and garment bags as table prizes, both bearing our Paulinian characteristics.
I must not forget to express our appreciation to Harvey Nichols and Harvey Nichols Beauty for various kinds of door gifts, table and Lucky Draw prizes for the 160 Grand Dinner. Sponsorships included cosmetic sets and skin care products from Nail & Lash by per Face, Charm In Cell, Shiseido and Dolce & Gabbana.
Much appreciation to the supporters and especially the Sales Team whose sweat has turned into great sales of the 160 souvenirs.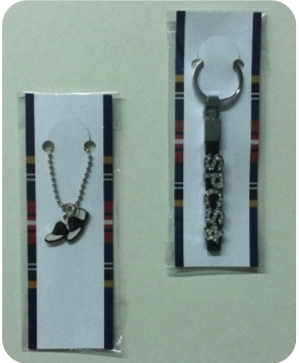 How you think about the 160th Anniversary Celebration? The Grand Dinner on 3 July?
The 160th Anniversary Celebratory events are unforgettable occasions re-uniting alumni, friends and relatives of SPCS from all ages and from all parts of the world. It is a time for everyone to remember our roots, to reminisce the good old school days and to rekindle the passion for the school.
The Family Fun Day and Horse-riding Day have been occasions to bring families together and to bring happiness to kids, thanks to the generosity of toy donors.
Many sung and unsung heroes have contributed countless hours of efforts and energy to make the events smooth, successful and memorable. It was a pity that the toasting ceremony had forgotten the 160 Organizing Committee and the Founding Chairlady, without whose faithful devotion, the celebratory events would not have been so successful.
Any other topics you wish to share with our Alumni?
It is my wishes that all Alumni continue to live up to the Paulinian spirit, be true from day to day, be compassionate and be shining role models for young Paulinians. It is also my wish that future Paulinians continue to be appreciative of the sacrifices and contributions of all benefactors. May SPCS continue to shine and sparkle for the next 160 years and more!